The great value of the Ponent Actiu project lies in its diversity. This allows us to find what makes us feel good, what we enjoy, what makes us feel alive, and what makes us aware of who we are and of what we really want.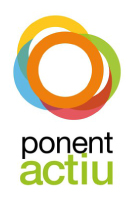 The Ponent Actiu project is managed by the Diputació de Lleida and applied by the Patronat de Promoció Econòmica, in collaboration with the 58 municipalities that form the comarques (local districts) of L'Urgell, El Pla d'Urgell, El Segrià and Les Garrigues.
We shall now propose you a series of routes that will allow you to discover the interior of these territories.