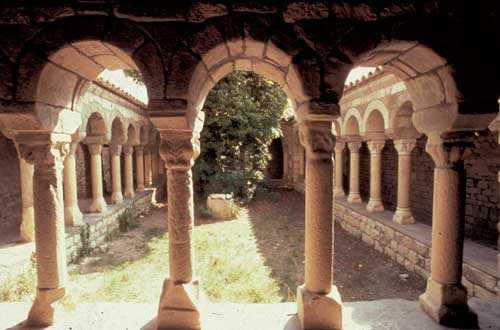 Route of the Pyrenean Counties or Earldoms
The Ruta del Pirineu Comtal (Route of the Pyrenean Counties or Earldoms) takes visitors on a journey of discovery that goes back into the early history and origins of Catalonia.
The scenes along the route are located in eleven of the oldest comtats (earldoms or counties) in the territory and provide an interesting backdrop to a tour which examines some of the most curious and significant aspects of the birth and configuration of Catalonia. The journey starts in the distant 9th century, at the time of Guifré el Pelós (William the Hairy), and runs through until the 15th century, when the dynasty of counts who had governed Catalonia for more than 500 years came to an end.
Although, chronologically speaking, the route relates to quite a long period, the majority of its elements belong to the 11th, 12th and 13th centuries.
From L'Empordà to la Ribagorça, these historic comtats present visitors with a wide selection of monuments, museums and groups of emblematic medieval buildings which are located in truly unique landscapes and natural settings. Although the route is organised in relation to territories once controlled by the counts of the Catalan Pyrenees, all of the itineraries in question can be modified to suit the preferences and time available to the individual visitor.
It is possible to follow the whole route, which with its various variants takes about 5 days in total, or to opt for shorter trips, spending perhaps only 1, 2 or 3 days in each comtat. Along the route, visitors will discover the power wielded by some of the noblewomen of the territory, its different religious beliefs, the meaning hidden in some medieval images, the first texts written in the Catalan language, and the wars, defensive actions and struggles for power of some of thr region's most significant protagonists.
The comtats of the Lands of Lleida:
The Ruta del Pirineu Comtal runs through most of the Pirineus lleidatans: Pallars Jussà, Pallars Sobirà, Ribagorça and Alt Urgell, although some settlements that are now included in Lleida province then formed part of other comtats; hence, the comtat of Berga initially included the village of Gósol, while that of Cardona included the town of Solsona.
The Comtat of Cardona
The Comtat of Berga
Information provided by Turisme de Catalunya (Catalan Tourist Board)