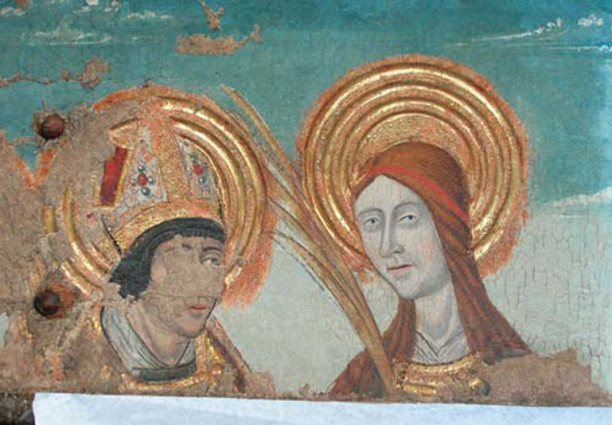 The comtat of el Pallars Sobirà: Romanisque art and architecture in the mountains
Outstanding places: Romanesque buildings of the Valls d'Àneu (Valleys of Àneu)
Places of interest: The Castle of Sort, The exhibition entitled "Hug Roger III, the mountains in rebellion"
Recommended route:
Llúcia de la Marca, who became countess of El Pallars Sobirà through her marriage to Artau I, governed the comtat with her son Artau II from 1081, following the death of her husband. This is an example of the power that some Catalan noblewomen came to wield at that time. Accounts of the power held by Llúcia de la Marca can be found in numerous documents and also deduced from the female image that appears amongst the mural paintings in the Church of Saint Pere of El Burgal.
The Ecomuseum of the Valls d'Àneuis the point from which this route begins. Along the way, visitors will enjoy an incomparable wealth of natural and cultural beauty.
The Church of Sant Pere of El Burgal is a magnificent example of the Romanesque heritage of the Valls d'Àneu and the whole of the territory in this comtat. The church was constructed in about the 11th century and built on the site of an earlier building dating from the 9th century. Apart from the mural paintings which represent Llúcia de la Marca, it is important to highlight the presence of two opposing apses corresponding to the chevet and the bottom end of the central nave. This feature is highly unusual in Romanesque constructions, though it can be found in some Visigoth temples.
Here, visitors can discover a series of other medieval buildings including Saint Pere de Sorpe, Saint Joan d'Isil, Saint Martí d'Escalarre o Saint Julià d'Unarre
In the south of the comtat, Sort offers two further proposals. There, it is possible to visit the remains of the Castle of Sort, with the outside walls of the palace where the counts used to live, the round Romanesque-style towers, and a gothic facade, which now all form part of a public square.
At the Oficina de Turisme (Tourist Office) of Sort, visitors will find an exhibition entitled Hug Roger III, muntanyes en rebel·lia (Hug Roger III, the mountains in rebellion) which explains the situation at the end of the 14th century and the decline of the feudal model.