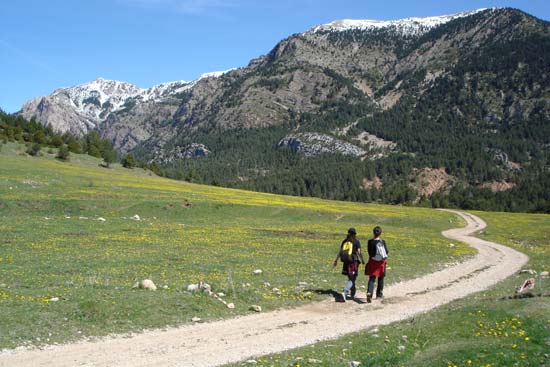 The path of Good Men - In the footsteps of the Cathares
In the 11th to 16th centuries, the Camí dels Bons Homes (path of the Good Men) was an important economic lifeline linking Ariège and Berguedà in Spain. The Cathares, fleeing the inquisition, used this route to seek refuge in Catalonia. Through the mountains, from friendly house to precarious shelter, they reached the Catalonian lands around Alt Urgell (Spain), Cerdanya (Spain) or Berguedà. By takingthis Pyrenean route, you will discover the same landscapes as those men and women in the Middle Ages on their quest for freedom and , perhaps, you will feel the breath of History.

The Path of the Good Men is also a strong symbol of the crossfrontier co-operation between Ariège and the Catalonian territories of Berguedà, Cerdanya (Spain) and Alt Urgell (Spain). This has made it possible to create a Hiking trail that can be taken on foot or horseback or by mountain bike. Safety has been greatly improved for hikers thanks to the special signposting and the numerous development works that have been carried out.
Two topographical maps have been published, one in France published by the FFRP /French Hiking Federation) and the other in Catalonia by the Consell Regulador del Camí dels Bons Homes.