TOURIST COMPANY/ ENTITY COMMITTED TO SUSTAINABILITY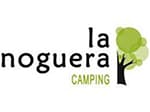 The La Noguera campsite is located in one of the most beautiful parts of La Noguera, just opposite the Sant Llorenç de Montgai reservoir, which is listed as a Wildlife and Waterfowl Natural Reserve of national importance.
We offer a multitude of services and activities for all the family, where they can enjoy our swimming pools, sports in the gym, the paddle court and all of our other indoor and outdoor facilities.
Our mission is to take care of nature and with that in mind, we have introduced a series of measures to achieve this:
We have planted over 1,300 trees which are watered by drip systems
We control our electricity consumption with metres on each of our plots
We have selective rubbish collection points (for glass, cardboard, organic packaging, light bulbs, batteries, coffee capsules and used cooking oil)
We climatise our facilities with Geothermal, Biomass and Photovoltaic Panel energy
We limit our water consumption with timers and atomizers at our water supply points
We manage waste water with our own treatment plant
We look forward to seeing you here!
.
Partida la Solana, s/n, 25613 Sant Llorenç de Montgai
.
info@campinglanoguera.com