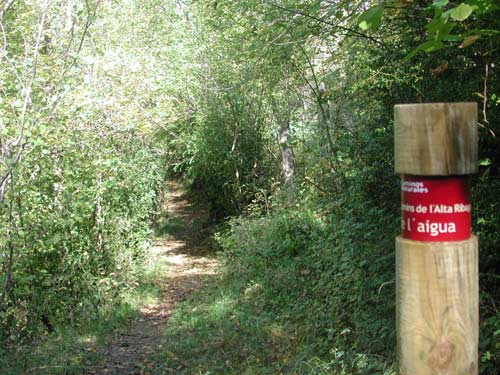 If we could fly like a migrating birds over the four cardinal points of the comarca (local district) of L'Alta Ribagorça, what would most surprise us would be the great number of lakes that have been, slowly but surely, created over thousands of years by a process of wise and natural evolution that starkly subtly contrasts with the smugness of the dams and reservoirs that have been created by the hand of man during the last fifty years.
Water is, therefore, the outstanding natural element in the scenic framework of L'Alta Ribagorça. These waters are the product of the plentiful precipitation that falls on the comarca throughout the four seasons of the year. These waters begin their journey to the Mediterranean in the glacial circs that lie hidden at the heads of the main valleys. These waters are transformed into wild waters of the Noguera rivers, which rush along so rapidly in spring, but may even freeze over in winter. These are waters of rain and snow in which life is born, grows, reproduces and dies in the most natural of ways. This is its destiny.
And it is these waters that also define the network of pathways that cross the comarca from north to south and from east to west. There are age-old paths, horseshoe trails, royal routes, livestock paths and tracks between mountains that, above all, should allow us to experience new sensations as we enthusiastically discover the untamed nature of these Pyrenean valleys.
The Water Route is 26 km long, an average of 1.5 m wide, and entails a change in altitude of some 650 m. This is a route that runs along different sections of old and traditional pathways and cattle tracks. It runs near to the main rivers of the comarca, linking the tail of the Escales reservoir and the monastery of Lavaix, in El Pont de Suert, with the spa of Caldes de Boí. It is therefore one of the main axes of the network of paths that run through this comarca.

SOME PRACTICAL ADVICE
Get well informed before embarking upon any trip or crossing.
Take the appropriate equipment –mountain boots, clothes with polar linings, waterproofs, a hat, sun glasses, a first aid kit, and sun cream–.
In the mountains the weather conditions can change rapidly. Take care and find out about the potential risk of landslides.
Many mountain areas have no telephone coverage.
Carefully measure your strength and consider the return journey!
Respect the animals, plants and herds of cows, horses and sheep that pasture on the mountainsides. Keep dogs on leads!
Do not leave behind any litter! Put it in the bins!
We must all be responsible for and help to look after our natural heritage. Respect the specific rules of each location and also those governing protected natural spaces, for the good of everyone!
The settlements are centres of culture, art and tradition. Discover them!