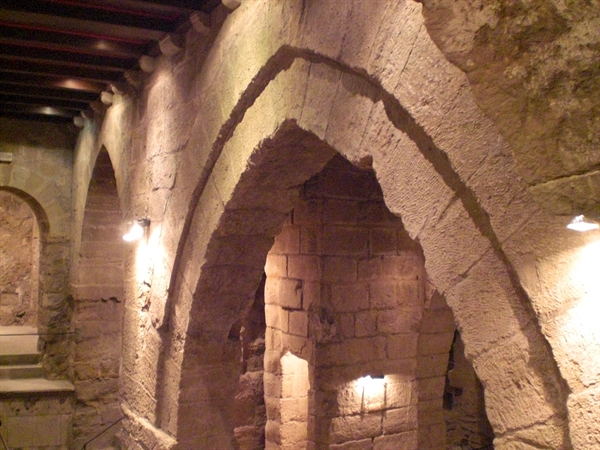 The "secret Lleida" route
"Secret Lleida" is a route that allows visitors to discover remnants of the Roman and medieval city. These include the remains of walls, churches, Al-Andalus baths and even a medieval prison: they have all survived the passing of time and can still be found in hidden corners of the city. It is now possible for anyone who wants to discover more about the history of Lleida through its archaeology to discover these secret spaces.
The visit to the archaeological remains of the Palau de la Paeria (City Hall Palace) reveals the remains of a rectangular building dating from Roman times and numerous objects from the 5th century CE. It also contains the remains of the Al-Andalus baths (9th – 10th centuries), which were first documented in 1208. At number 47 Carrer Anselm Clavé, it is possible to visit the remains of medieval walls dating from the Al-Andalus (9th – 10th centuries) and feudal (12th to 14th centuries) periods.  Close by, in the cellar of the Auditori Municipal Enric Granados (Municipal Auditorium), visitors will find an interesting cross-section revealing different layers of archaeological remains dating from the late Iber or Roman republican (2nd and 1st centuries BCE), Imperial Roman (1st and 2nd centuries CE), late Roman or High Imperial (3rd to 10th centuries), medieval Al-Andalus (10th to 12th centuries) medieval Christian (12th to 15th centuries), and modern (15th to 18th centuries) periods. Finally, on the way back towards the Paeria (City Hall), the church of Sant Joan, which stands on the city's main shopping street and in the square of the same name, conserves the remains of a medieval apse (13th century) and also from the Christian medieval (12th to 15th centuries) and modern (15th to 18th centuries) periods.