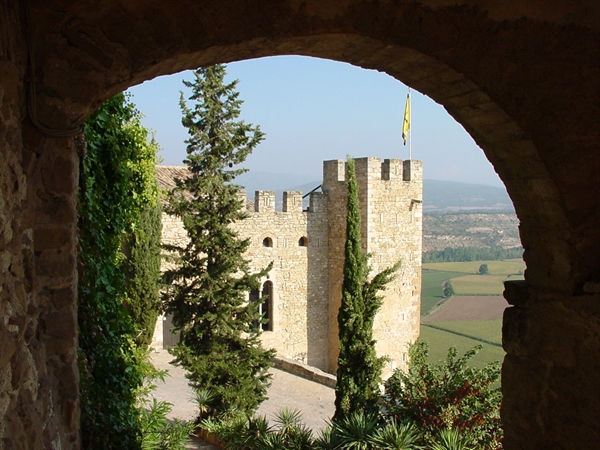 Fortresses between the Arab and Christian worlds
For two centuries the Lands of Lleida formed the frontier between two civilisations: the Arab and Christian worlds. Several castles still remain as silent witnesses of those times. Scattered across the territory of Lleida, although not immense fortresses, they are Majestic and well conserved, often standing on hilltop sites to guarantee the security of frontier areas and as visible symbols of power. They can be found in El Pallars Jussà, La Noguera, La Segarra, L'Urgell and Les Garrigues. Some of these castles are now also venues for music concerts on summer nights.
La Noguera. The Castle of Montsonís still conserves its prison and a secret escape passage. The Castle of La Ràpita (private). The Castle of Os de Balaguer currently houses the Bell Museum of Catalonia. The Castle and Religious Community of Sant Pere d'Àger.
L'Urgell. The Castle of Montclar is renowned for the stairway to its noble quarters, its music room, library, stately dining room, prison and cellar. The Castle of Verdú. The Castle of Maldà. The Castle of Ciutadilla.
La Segarra. The Castle of Les Pallargues is famous for the 13 metre gothic-style arch on its facade, its spacious halls and large windows, underground prison, ice well, cellar and system of channels carved out of the rock. The Castle of Florejacs is a veritable museum with historic furniture, paintings, cellar, dungeon and a lovely bedroom. It houses objects from various historical periods and has a secret passage and interesting collection of arms. The Castle of Vicfred has a 2 km-long secret passage which is hidden behind a small door. The Tower of Vallferosa is one of the best examples of 10th century European military architecture. The strategic position of the Castle of Les Sitges made it an important protagonist in the High Middle Ages during the struggle between Christians and Saracens. The Castle of de Concabella houses the Centre for Interpreting the Castles of the River Sió.
El Pallars Jussà. The Castle of Mur offers spectacular views over the Tremp river basin and the Terradets reservoir. Features to highlight include the system for using water and the capitals of its cloister. The Castle of Llordà is one of the best examples of residential architecture from the high medieval period in Catalonia. It is possible to organise guided visits to the Museum of the Conca Dellà. More examples of frontier castles can be found in the remains of the medieval fortresses of Sant Gervàs, d'Orcau and Guàrdia de Mur and there are also a number of watchtowers scattered across the comarca.
Les Garrigues. The Castle of La Floresta. The Castle of L'Espluga Calba. The Castle of Arbeca. The Castle of L'Albi.