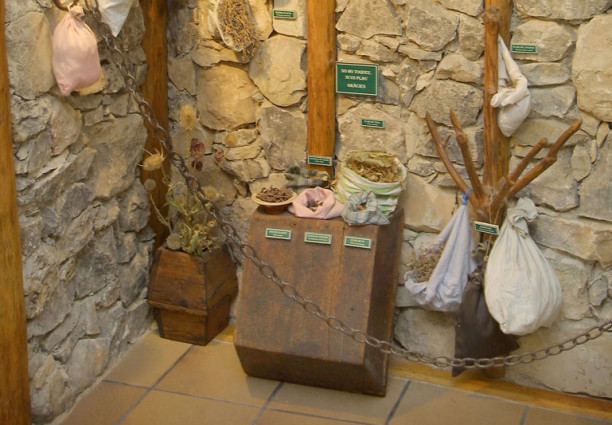 The main objective of this ethnographically interesting route that runs through the district of l'Alt Urgell (Spain) is to make visitors aware of the different ways of life, customs and types of socioeconomic activity that have had an important influence on this region in previous times. The route has been organised around a series of interesting sites and thematic museums. One of these is the Museu de la Vinya i el Vi (Vine and Wine Museum) in Pont de Bar, which makes visitors aware of the region's thousand year wine making tradition. The Museu de la Llana (Wool Museum) at Arsèguel shows how a fulling mill used to work in the 17th century. In Calbinyà, the Museu del Pagès, introduces visitors to the traditional lifestyle of a smallholder with a house in the mountains. At Coll de Nargó, it is possible to visit the Museu dels Raiers (river rafters) and to learn about this traditional occupation. At the old La Trobada flour mill, in Montferrer, visitors can learn about the process for making flour.
Other interesting and indeed unique places to visit in l'Alt Urgell (Spain) that will remind visitors of past professions include the old Pou de Gel (ice well) at Oliana and the Museu de les Trementinaires (Turpentine Museum) at Tuixent. At the latter, visitors can discover numerous herbal remedies and learn more about this fascinating craft.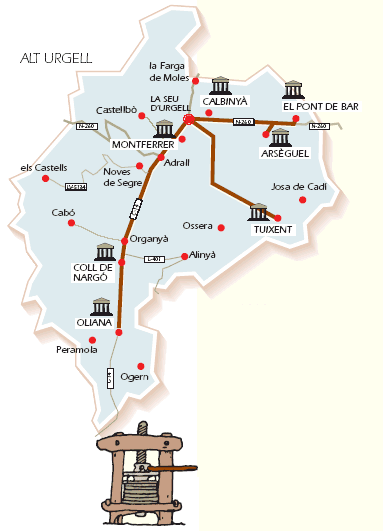 MUSEU DE LES TREMENTINAIRES
The Museu de les Trementinaires (Museum of Pine Resin and Oil) at Tuixent first opened its doors in 1998 with the aim of keeping alive the memory of an age-old craft that had been carried out by the women of the valley of Vansa and Tuixent.
The profession of trementinaire (pine oil herbalist), which came to be a way of complementing the economic activity of many families, was an activity exclusively associated with the Vansa and Tuixent valley. Furthermore, trementina(pine oil), which was a very highly demanded product, also gave its name to the women who produced and applied it. The trementinaires made their trementina from raw materials extracted from the resin of the Scotch pine after it had been distilled. They therefore essentially made their products from a mixture of rosin (colophony) and essence of turpentine or white spirit. The trementina was eventually obtained from mixing these two products in a certain specific proportion and then adding to it either "yellow wax", olive oil or animal fat. The most frequent way of using trementina was to apply it to an area of the body in the form of a type of paste. These pastes were commonly used to combat pain, sprains, injuries and various other complaints.
The main herbal remedies that they commercialised apart from trementina were black paste, fir oil and juniper oil. The most commonly used plant remedies included auricula, saxifrage, rock tea, heracleum, hyssop, sage, milfoil, bluegrass, scabious, savory, cumin, and gentian. Sometimes, they also distributed dried mushrooms. These remedies were used to cure the illnesses of both people and animals. 
This valley is located in L'Alt Urgell (Spain) and is on the sunny side of Cadí, near Pedraforca (Gósol) and Port del Comte (Sant Llorenç de Morunys). The main centres of population in the valley are: Josa de Cadí, Tuixent, Cornellana, Fórnols, Adraén, Sisquer, Sorribes de la Vansa and Ossera.
The trementinaires used to travel around selling the herbs and remedies that they collected and prepared in the Vansa and Tuixent valley. They would set out to sell their wares once or twice a year and could be away for anything between just a few days to up to four months at a time. They normally travelled in pairs and went most of the way on foot, carrying their products on their backs. They used to have a direct and personal relationship with the people who they sold to and for this reason they tended to visit rural areas and to establish quite close ties with the people who they lodged with along the way. This led them to establish a series of fixed routes that they would repeat year after year. There are records of their activities dating back from the end of the 19th century through to the 1960s.
The trementinaires travelled to almost all parts of Catalonia, but the best documented information about them speaks of the main areas in which they distributed their products: El Berguedà, El Moianès, Osona, La Selva, El Gironès, El Baix Empordà, L'Alt Empordà, La Garrotxa and El Ripollès (mostly in the north-east of Catalonia). Other routes led them to L'Urgell (Spain), La Segarra(Spain) and El Segrià (Spain). Sometimes, their routes even stretched as far as the territories of Tarragona. Following the course of the river Llobregat they went as far as El Bages and El Vallès, and there are even records of trementinaires selling their wares at the Sant Pons fair in Barcelona. Other information refers to them passing through El Pallars and the Val d'Aran and reaching Andorra.
The activities of the museum. The museum provides guided visits and also organises a range of activities throughout the year. Amongst these, it is important to highlight the Festa de les Trementinaires (Herbal Remedies Festival), which coincides with the Second Easter (Pasqua Granada), guided outings searching for aromatic and medicinal plants in the Vansa and Tuixent valley, courses about flowers and workshops on plants and how to make herbal remedies for school groups.