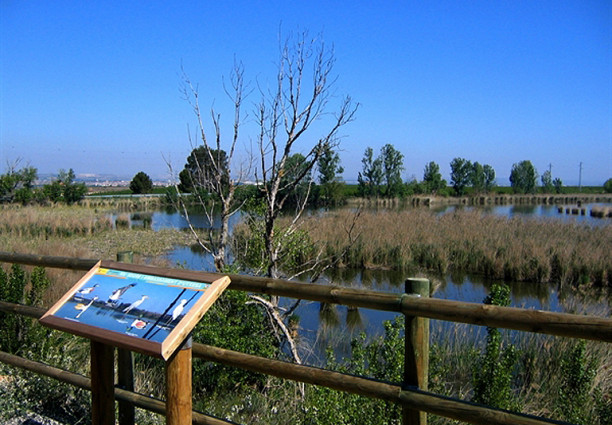 All the routes that lead to Utxesa
There are many ways to reach the Utxesa reservoir in the comarca (local district) of El Segrià and they all offer something special for the visitor. Going there from Torres de Segre, you should visit the part of the natural route that runs for 2 km along the banks of the River Segre with its vantage points, rest area and large colony of white stork. You can also see the old mill, which has now been turned into the Museum of Evolution, the castle walls, historic houses and municipal church. Going on for another 3 km, you will come to the bridge that crosses the Canal de Seròs. Here, you can follow the nature route signs to Utxesa or branch off and visit Carrassumada hill, from where it is possible to visit the hermitage and enjoy views over the landscapes of the comarca of El Segrià.
If you go to Utxesa from Sarroca de Lleida, you can follow a rural track directly to the reservoir and just before you get there, you will see the remains of the old castle and church of Sarroca.
Travelling from Aitona, you can visit the castle and then go on to Utxesa following the Pathway across the Plains. Then you can visit the "La Canadenca" hydroelectric power station and the reservoirs of Ximo and Burgebut. On arriving at Utxesa, the route around the reservoir is signposted and there are several vantage points, rest areas and an information point. It is also possible to hire bicycles there and to book guided visits.