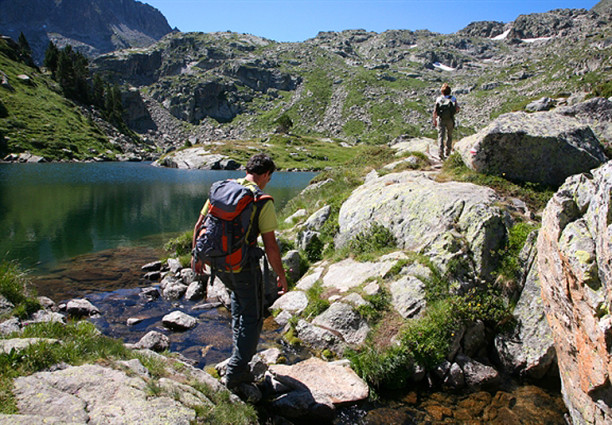 "Encantats": Crossing the National Park!
"You do not know the Pyrenees, if you do not know "Els Encantats"" Henry Brulle, French expert on the Pyrenees.
It is now some 130 years since 1880, when the Frenchman Maurice Gourdon began to explore these fantastic mountains. This experience led Henri Brulle, an expert on the Pyrenees, to state that whoever did not know the Encantats, did not truly know the Pyrenees. With his friends and guides from Luchon, he crossed the Val (valley) d'Aran, spending the night at the Rosta de Salardu boarding house, before walking through the Val de Ruda and crossing the 2,543 m Port (mountain pass) de Ratera to reach the "enchanted mountains".
This is a walking route that passes through the National Park, crossing the Val d'Aran, El Pallars Sobirà and La Alta Ribagorça. It follows historic paths that run through the most beautiful areas in the Park. The Val de Ruda is a perfect glacial valley, complete with the Saboredo circ lake. Then there is the Estany (pool) de Sant Maurici, with the Encantats towering over the surrounding area. The Portarró (mountain pass) de Espot, which stands at an altitude of 2,425mts, lies at the very heart of the Park and has been used by the people of Pallars, Ribagorza and Aran for centuries. There is Aigüestortes with Estany Llong and Estany Llebreta in the Vall de Sant Nicolau. The Port de la Gelada, which stands at 2,069 m, is a natural passing point on the historic path between Erill la Vall and Senet. The Vall de Barraves comes to an end at the Port de Vielha.
There are valleys, hills, villages and historic routes along this circular, 5-stage, itinerary which both begins and ends in Vielha and which is 90 km long and has a net variation in altitude of some 8,060 m. The route follows some of the paths that have been recovered and signposted within the Camins Vius programme, which is an initiative of Depana and the National Park.
Accommodation can be found in hotels located in the villages at the end of each stage. This also makes it possible to discover more about the culture, heritage and gastronomy of these valleys. The services that come with the route pass also include the transportation of luggage from one accommodation point to another, offering a service that is common on other similar routes in Europe (hiking without luggage) and which allows visitors to enjoy their walking even more.
This route, which can be enjoyed between the months of June and October, is organised by the mountain activity company Camins, an organisation that has been one of the pioneers at developing active tourism in Spain.
A bit of Legend
The legend of the Encantats (enchanted mountains) is a fantastic folk tale told by the old inhabitants of Espot, who tried to explain how the mountains got their name. According to the story, every year, in the month of September, the inhabitants of Espot used to embark on a pilgrimage to the hermitage of Sant Murici. But one year, two hunters, called Cristòfol and Esteve, decided not to go on the pilgrimage, but to instead head up to the top of the mountains to enjoy some hunting. They say that after some fog and deafening thunder, the mountain suddenly appeared, divided into twin peaks, where the hunters had been petrified in punishment for their brazen audacity.
TECHNICAL FILE
5 stage programme with 5 overnight stays.
1st Stage: From Vielha to Baqueira 1500.
Distance: 18 km
Estimated time: 5 h 30 hours
Climb: 906 m
Descent: 380 m
Route: Vielha (974 m), Arties, Unha, Bagergue, Peira Roja (1.880 m), Baqueira 1.500.
2nd Stage: From Baqueira 1,500 to Sant Maurici.
Distance: 19 km
Estimated time: 7 hours.
Climb: 1.043 m
Descent: 633 m
Route: Baqueira 1.500, Saboredo, Port de Ratera (2.543 m), estany de Sant Maurici (1.910 m).
3rd Stage: From Sant Maurici to Boi
Distance: 19,5 km
Estimated time: 6½ hours
Climb: 515 m
Descent: 1.189 m
Route: Sant Maurici, Portarró d'Espot (2.425 m), Aigüestortes (1.800 m), Boí (1.236 m).
4th Stage: From Boi to the Refugio de Conangles
Distance: 19 km
Estimated time: 7 h
Climb: 1.183 m
Descent: 864 m
Route: Boí, Coll de Basco, Port de Gelada (2.069 m), Senet (1.205 m), Refugi de Conangles (1.555 m).
5th Stage: From the Refugio de Conangles to Vielha
Distance: 16,5 km
Estimated time: 6 hours.
Climb: 887 m
Descent: 1.468 m
Route: Refugi de Conangles, Port de Vielha (2.442 m), Vielha (974 m).
TOTAL:
Total Distance: 92 km
Estimated time: 32 hours.
Climb: 4.534 m
Descent: 4.534 m
Net variation in altitude: 9.068 m
For more information: Camins