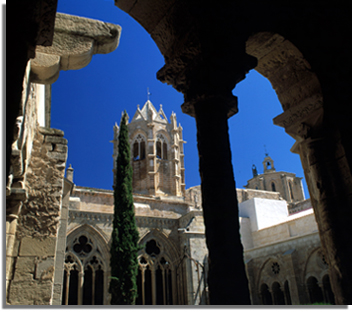 Along the Ruta del Cister it is possible to visit the museums, churches, convents, castles, hermitages and shrines scattered throughout the area. Points of interest in L'Alt Camp include the Santuari (shrine) de Montserrat at Monferri, the Roman aqueduct at El Pont d'Armentera and the chapel at Roser de Valls. In La Conca de Barberà, the Cova de la Font Major (underground caves and lakes) at L'Espluga de Francolí, the walled town of Montblanc and the area around the spa settlement of Vallfogona de Riucorb are all worth a visit.
In L'Urgell (Spain), tourist attractions include the Romanesque church of Santa Maria d'Agramunt, the castle of Ciutadilla and the mausoleum of Ramon Folch in Sant Nicolau's church in Bellpuig. These are just a few of the wide range of tourist attractions to be found along the Ruta del Cister.
Visitors can also enjoy the area's rich gastronomy, which includes typical local products such as the wines and cava champagnes of DO Costers del Segre, DO Conca de Barberà, DO Penedès and DO Tarragona. These can be purchased from more than 20 different Art Nouveaux style wineries in the area. Other prized local delicacies include: DOP les Garrigues extra virgin olive oil, calçots (tender onions) from Valls; torró (almond and honey nougat) and xocolata a la pedra ("stone chocolate") from Agramunt, coques de recapte, (sausages, fish, and braised vegetables presented on a think pizza-like base); homemade cured sausages; and traditionally produced local cheeses, meat, dairy and vegetable preserves, and both sweet and dried fruits.
For those interested in crafts or who simply like to buy mementos to decorate their homes, it is worth discovering the smoked pottery of Verdú, the alabaster work of Sarral and the glasswork of Vimbodí.
Those who prefer more active pursuits can choose between organised walks and day trips, enjoying the great outdoors, and a series of other activities that are sure to provide both interest and pleasure. The mountains of Prades, La Saburella, Les Obagues del Riu Corb and the Serra (ridge) del Tallat are all natural settings at which it is possible to enjoy a wide range of sporting activities and allow visitors to contact make with nature, enjoying the sounds of the mountains, rivers and woods.
Enjoy the festivals, fairs, popular gatherings and markets that are held throughout the year and which reveal the culture, popular traditions and hard work of a people who love their land and the surrounding area and who wish to share them with visitors. Participate in the Medieval Week of Montblanc, in the Festa de la Calçotada (onion-fest) of Valls and/or in the Fira del Teatre al Carrer (street theatre festival) of Tàrrega.
Further information: