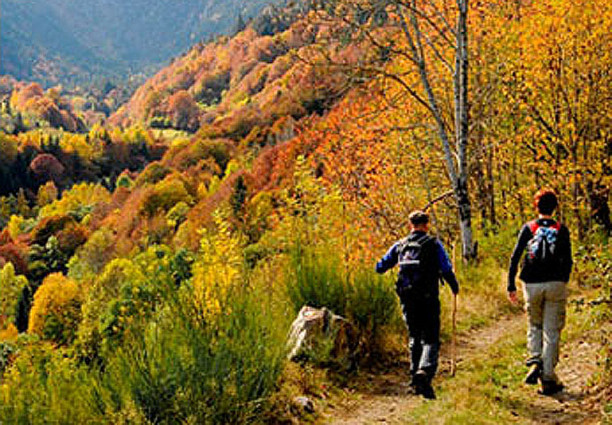 COME AND WALK THE CAMIN REIAU!
The Camin Reiau is a quite unique walking route that runs through the 33 settlements of the Val d'Aran (Pyrenees). It has a total trajectory of 150 km and the accumulated variation in altitude is 12,000 m (with a total climb of 6,000 m). We propose dividing the route into 10 stages of approximately 15 km, although it is possible to adapt the number of stages to the possibilities and preferences of the walkers in question. This is a route that you can either do in one visit (doing one stage after another) or spread over different parts of the year.
It is particularly aimed at people who are interested in discovering the history, culture and nature of the Val d'Aran y who like walking.
The route is based on footpaths that used to serve as the main links between the different settlements of the valley: the historical Camin Reiau (the Way for Internal Communications within the Val d'Aran).
Camin Reiau can also organise the following services for you:
Accommodation for the different stages

A route guide to accompany you

Luggage transfers

Transport to the starting point, if required (those who do the full route will start and finish at the same point as this is a circular route).
On finishing the route, walkers will receive a diploma and a "finishing" gift.
The Camin Reiau is a route that can be walked all year long, whether alone, with the family, with friends, or even as a sporting challenge. On the Camin Reiau, you will become immersed in the Val d'Aran, its customs, traditions and language.
For more information: Camin Reiau