Olive oil tourism, guided visit to the olive oil mill and olive oil tasting amongst the olive trees, La Pobla de Cérvoles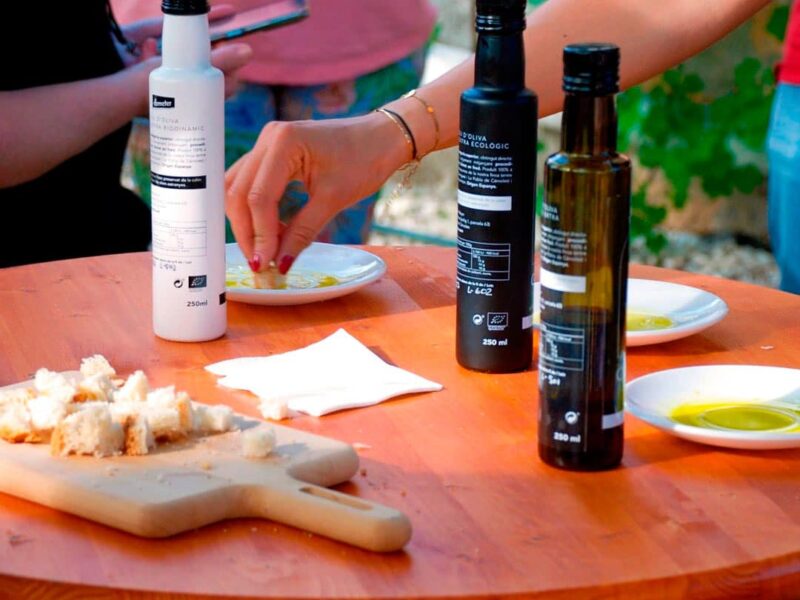 Would you like to discover the process for making biodynamic oil at first-hand? We will begin the guided visit at the mill and in the olive groves, with a detailed explanation of the steps involved in making olive oil, from when the olives are harvested until when they are milled and the oil is filtered and finally packaged in glass bottles. We will then offer you a tasting of the different olive oils that we make on the estate. In total, there are 9 seasoned and unseasoned extra virgin olive oils. Finally, we offer you an optional free visit among the olive groves of the estate, following a signposted route along which you can enjoy magnificent views and discover various caves, a water collector, cliffs, vantagepoints, and drystone walls, and where you will hear the wide variety of birds that live on the estate.
Les Garrigues
What it includes:
- Guided visit to the olive oil mill
- Tasting of 9 olive oils (3 extra virgin oils and 6 seasoned oils) and of Arbequina olives amongst the olive trees
- A free signposted walk around the estate (optional)
Timetable:
From Monday to Sunday, at 10.30 am and at 11.45 am
Duration: 2 hours
By prior arrangement
Price:
€12 per person.
€7 per person for children from 8 to 15 years old
Languages:
Catalan, Spanish, English and German
Oli Cometes
613 100 581
olicometes@gmail.com
EXPERIENCES
IN THE SAME REGION