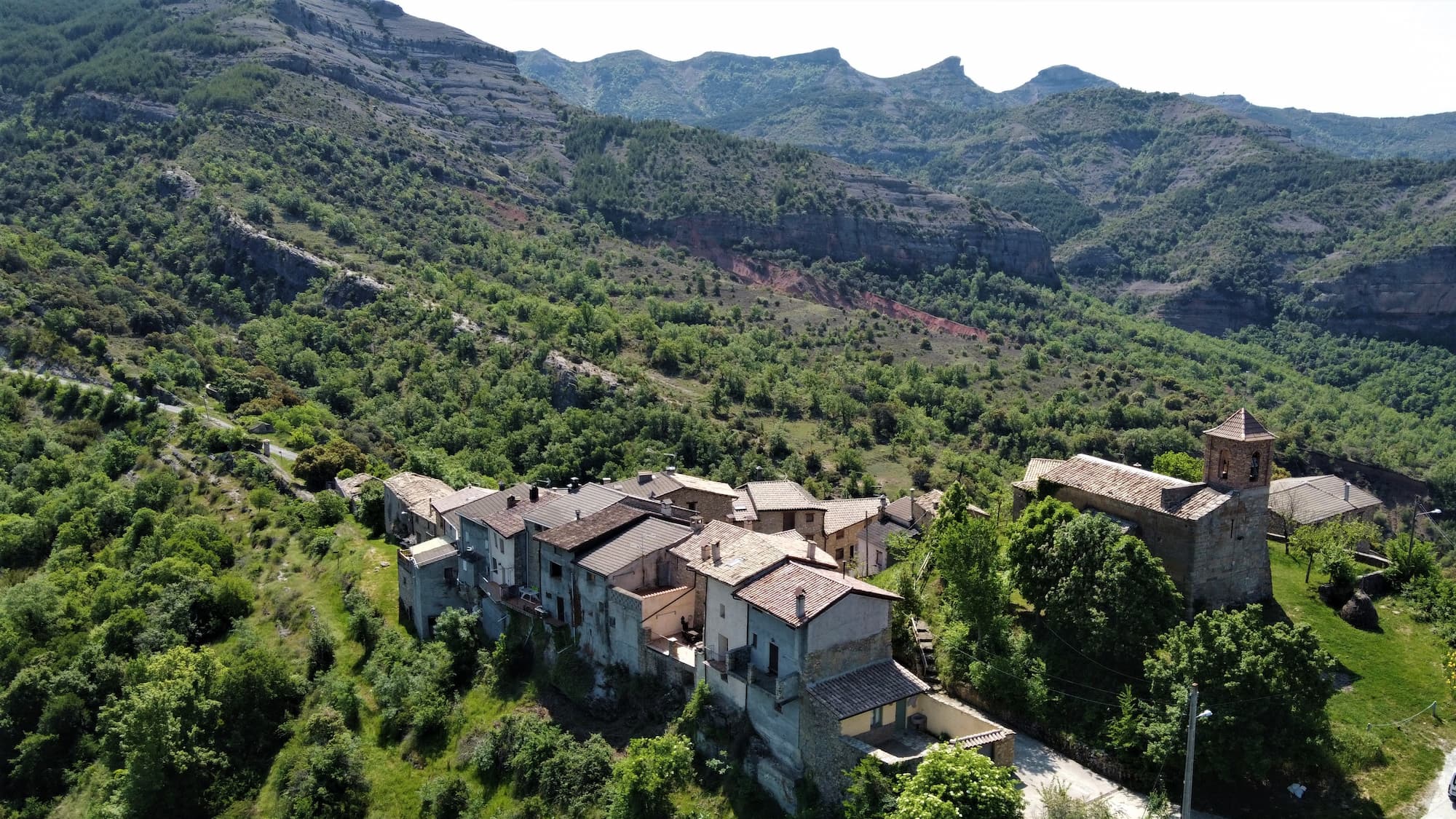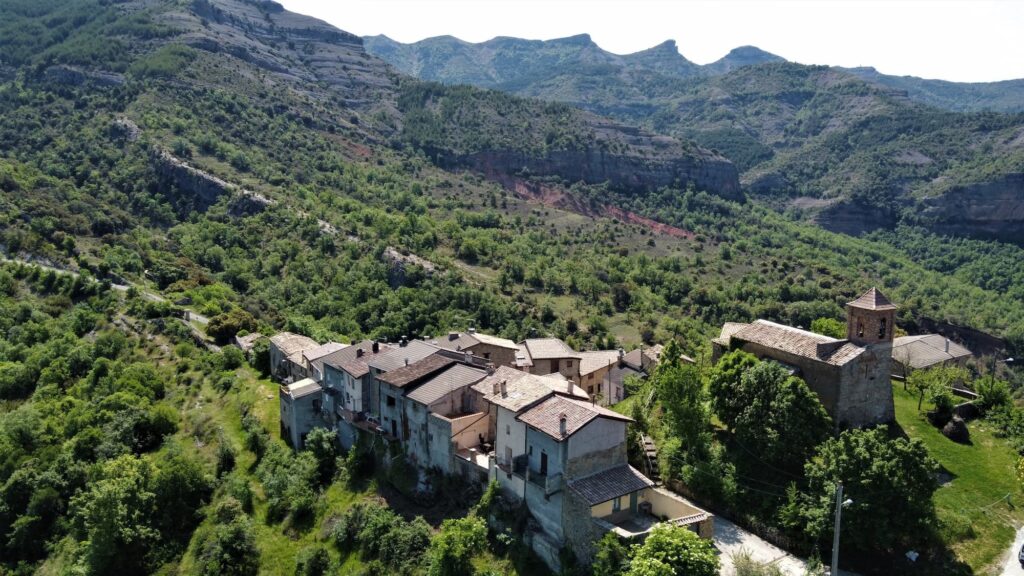 Immersió en la roureda d'aulàs a La Terreta
County: Pallars Jussà
Location: La Terreta
Start:
Route type: Circular route
Distance: 4,6 kilometres
Vegetation: Mixed oak forest coexisting with Scots pine at clearings
Seasonality: All year round
The rugged relief of El Pallars Jussà has created various geographical areas with a character all of their own, with clear contrasts between the Pyrenean landscape of the northern area and the more Mediterranean landscape of the southern area. In the northern area, the deep, high-mountain valleys, which were excavated by river glaciers, fit between massifs of great altitude, some of which have peaks that rise to almost 3,000 metres. El Baix Pallars has made a place for itself amongst these high peaks of the Pyrenees and the Serra del Montsec mountains. To the south, the landscape becomes more rounded and the Tremp river basin, which extends outwards towards the plain, is typified by a temperate climate that is a blessing for crops and eminently Mediterranean vegetation. 
The municipality of Tremp is framed between the rivers Noguera Pallaresa and Noguera Ribagorçana, to the east and west, and borders on the Serra de Sant Gervàs, to the north, and the Congost de Mont-rebei gorge, to the south. This is a municipality with an extension of just over 300 km2. La Terreta lies in its westernmost part and contains 16 settlements, some of which are now abandoned, and various scattered farmsteads. It has a wide network of footpaths that connect the different settlements by crossing croplands, oak groves, and other types of environments.
In this area, you will also find the Vall dels Voltors, which is a circular, 30 km route that runs through an area of great ornithological interest, in which it is possible to see all sorts of European vultures and where there is an important nesting colony of these species. 
To reach La Terreta from the N-230, you must head towards the settlement of Areny (in Huesca province) and then cross the River Noguera Ribagorça, by the Pont d'Orrit bridge, and take the road to the hamlet of Sapeira. In the higher part of Sapeira, you will find a car park and a vantage point that offers views of the Serra de Sant Gervàs and the oak grove of Aulàs. Below the church, and next to Casa Sullà, another vantage point allows visitors to enjoy views over the southern part of La Terreta and the walls of Turmeda, with their different shades. Here, it is possible to see some of the oldest visible rocks (which are 60-70 million years old) on account of their remarkable angle of inclination.
From Sapeira, there are various footpaths along which it is possible to enjoy La Terreta. In general, they are of low difficulty and cover quite short distances: of from four to a little more than 10 kilometres. 
To immerse yourself in the oak grove of Aulàs, you can follow the itinerary that goes from Sapeira to the spring of Les Basses, which is a low-difficulty, circular, 4.6 km-long route. In this case, it is necessary to go to the exit from Sapeira, where there is vertical signposting that you can follow towards Aulàs. This is all about leisurely strolling through the immense oak grove, without hurrying, and enjoying the immersion and the atmosphere created by the oak trees and the vegetation that coexists with them, whose aromas you can breathe in and enjoy along the whole route. More or less half-way along the path, you must follow the signs for La Torre del Senyor, which is about 1.8 km from Sapeira. Near a farm, which is on the same path, you will find the Font de les Basses spring. This route is circular, so it is possible to either go down through the oak grove and then ascend with the path, or to do the route in the opposite direction, but it is also possible to go back the way that you came in order to extend the immersion amongst the oak trees. 
The network of paths in the area offers many possibilities for extending the proposed walk and/or for combining the practice of forest bathing with some hiking. One of the routes that allows you to make a complete tour of the Aulàs oak grove is circular. It again leaves from Sapeira, then continues towards El Castellet, and from there to Aulàs. After that, it continues to La Torre del Senyor, then heads back to Sapeira, in a walk of a little more than 10 kilometres. 
There is also GR3, which crosses La Terreta from north to south, and which passes through La Torre de Tamúrcia, where it is possible to pay a visit to the Casal dels Voltors. 

The space for forest bathing
At the Aulàs oak grove, which is the largest flat extension of oak forest in the Pre-Pyrenees, it is relevant to highlight the downy oak (Quercus pubescens), which is typically found on slightly wetter soils, and the Lusitanian oak (Quercus faginea), which tends to occupy areas of drier soils and mountain stages. This is a mixed forest with both species, although the downy oaks tend to be found in single species stands. This is because they can reach heights of up to 25 metres and therefore tend to deprive neighbouring smaller species of light. Even so, it is not rare to find them coexisting with pines at clearings in forests of Scots pine (Pinus sylvestris), mainly as a result of human intervention. In the case of the pine forests of La Terreta, these trees are the result of repopulation programmes that were carried out between the 1960s and 1990s. They can also be found coexisting with other tree species which may include the rock cherry (Prunus mahaleb), field maple (Acer campestre) and Italian maple (Acer opalus), and with a shrub layer which includes box (Buxus sempervirens), snowy mespilus (Amelanchier ovalis) and hawthorn (Crataegus monogyna). The herbaceous layer is usually cleared, but it is possible to find examples of liverwort (Hepatica nobilis) and green hellebore (Helleborus foetidus) amongst other herbs.
The oak is a majestic tree, with brownish bark and a wide crown, and its symbology is one of the best documented amongst plant species. It is known that in many cultures, the oak is a symbol of strength and vigour, and of physical and/or spiritual fortitude. It is also associated with gods of different types and with knowledge and wisdom. It is said that in the past, people took their children to this tree when they were ill, because it was believed that it could cure them. In fact, oak oil has been attributed therapeutic properties for treating arthritis, sprains, and also fatigue. It is certain that oak is widely used for therapeutic purposes, taking advantage of its numerous properties, which range from those of its bark to those of its fruit: the acorn. Carl Sagan even dedicated a few words to the oak in one of his most famous quotes: "This oak tree and me, we're made of the same stuff". He was making reference to what he had said in another of his famous quotes, which has since travelled around the world: "The cosmos is within us; we're made of star stuff. We are a way for the universe to know itself", which has been summarised in the popular expression: "we are stardust".
The concept of therapeutic forest bathing originated in Japan and it is important to know that the relationship and close ties that nature has with Japanese culture has a very long history and is different from anything that exists in the West. In Japan, nature is clearly part of the country's culture and also its aesthetics. This is a recurrent theme in its literature and there are classical symbols that link emotions with nature. As a result, it is not strange that the Japanese venerate trees, with this being an example of man being in harmony with nature. Some names also highlight this singular affinity. For example, the name of the ogatama-noki (Magnolia compressa) tree translates as "that which attracts the soul".  Large and old trees are emblems and, amonghst other reasons, are venerated for their unique forms. In our culture, there has also been an important relationship between mankind and plants: the tradition of herbal remedies and customs such as hanging a silver thistle (Carlina acaulis) at the main entrance to a home are just a couple of examples that can still be seem in some of the villages in the Pyrenees.
Although many of the trees in the Aulàs forest were felled in the past, particularly to make charcoal in the 19th century, the forest is now in a very good state of health and this is an ideal place for forest bathing. Whether you find a more or less spiritual connection there will, however, depend on each person. It is never obligatory, nor guaranteed, to do forest bathing or to find beneficial effects for your health.
Mapa orientatiu: https://www.pallarsjussa.net/sites/default/files/triptic_de_la_terreta_0.pdf
Casal dels Voltors: https://www.tremp.cat/index_web.php?idwc=czoxNjoiY2FzYWxkZWxzdm9sdG9ycyI7