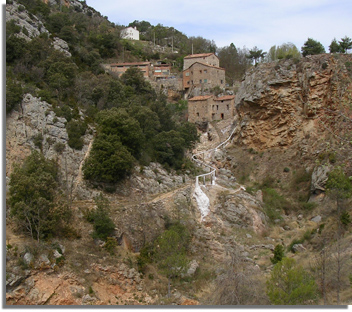 The Route to La Font Salada de Cambrils
After leaving Solsona, visitors should follow the C-26 as far as the Pont (bridge) de Querol and then take the road leading to the Santuari (shrine) de Massarrúbies and Cambrils (Pyrenees-El Solsonès - Spain), which are located in the municipality of Odèn. There, it is possible to visit the font salada (salty spring) and a former mountain salt mine and to discover the ingenious system by which full advantage was taken of both fresh and salt water. This route also enables visitors to discover the geology and main animal and vegetable species of the local area.
Odèn is also famous for its mountain potatoes or "trumfos", which have an excellent reputation for quality and taste and can be enjoyed at the majority of the comarca's (local district) restaurants. Once a year, the city of Solsona celebrates a fair that is exclusively dedicated to this tuber.
For guided visits to the salt mines of Cambrils, visitors should phone the Centre de Natura (Nature Centre) d'Odèn.