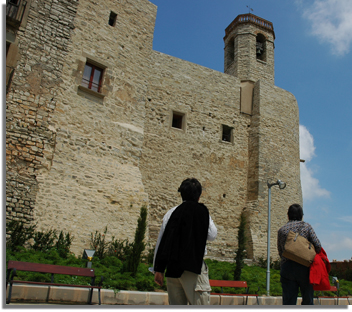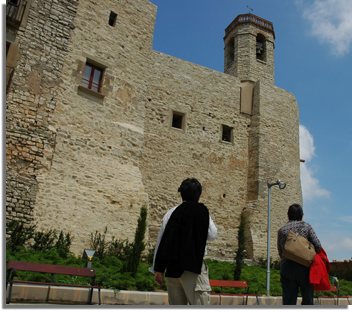 The River Sió Castles Route
The Sió has always been a relatively unknown river, but in spite of its limited fluvial capacity, it is a long river and one that forms a natural boundary and has conditioned the history of its immediate territory. It offers has long provided a shared geographic space for social, cultual and economic relations and communication, with its course forming a longitudinal axis running between the neighbouring towns and villages. Back in the 10th, 11th and 12th centuries, a series of fronteer castles were built that provided this territory a defense network.The River Sió rises at Gàver in L'Alta Segarra and receives waters from as far away as the upper part of the comarca (local district) of Anoi, which historically formed part of La Segarra. It runs across la Segarra,el Urgell andla Noguera before flowing into the river Segre near Balaguer, after a course of some 70 km.
The river Sió is therefore the central focus of a thematic route that coincides with a frontier that was established by the Marca Superior at the end of the 10th and beginning of the 11th centuries and which includes a countryside steeped in history and with many characteristic monuments.
 Key points along the route
The route takes in several castles to which guided visits have already been organised for a number of years and marketed within the "Castles of Lleida" network: www.castellsdelleida.com. The castles in question are:
Montsonís (la Noguera)
Montclar (el Urgell)
Florejacs (la Segarra)
Les Pallargues (la Segarra)
Vicfred (la Segarra)
Concabella (la Segarra)
Formós (la Noguera)
It is possible to find castles that can be visited at different points along the route. There are tremendously welcoming places of great monumental value at Balaguer, Agramunt and Sant Guim de Freixenet. Other places of heritage value along the route can be found at Vergós Guerrejat, Les Oluges, Montfalcó Murallat, Malgrat, Castellmeià, Montcortés, L'Aranyó, Ratera, Les Sitges, Preixens and Almenara.
A list of castles and places to visit
Gàver (this is where the river Sió has its headwaters. There is no castle and not much of interest to visit. The river is signposted and well ordered, but there is little more to see)
Montfalcó Murallat
Cervera (a key town on the route. Places of interest inlude the Town Hall, University and witches' street)
Sant Ramon (a monastery along the route)
L'Aranyó
Montcortés
Vicfred (guided visits of the interior)
Castellmeià
Concabella (interpretation centre)
Ratera
Guissona (a key town on the route. Roman remains)
Castellnou d'Ossó (Roman tower with the remains of a little known medieval castle. Well worth a visit because this is a very important, though largely unknown, site)
Les Pallargues (guided visits of the interior).
Florejacs (guided visits of the interior).
Les Sitges
Agramunt(a key town on the route. Romanesque church of Santa Maria)
Torre de Almenara (It is possible to go up on the roof)
Montclar (guided visits of the interior)
Montsonís (guided visits of the interior)
Castell Formós (Balaguer)
More information: Oficina de Turisme de Catalunya a Lleida