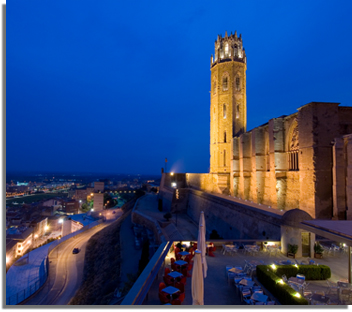 The Lleida monument route
One of the most spectacular monument itineraries in the city of Lleida is the one that invites visitors to discover its most emblematic treasures: The Seu Vella (old cathedral) and the Palau de la Paeria(City Hall) (El Segrià - Spain). The latter, which is one of the most important Romanesque style examples of civil architecture in Catalonia and the seat of the Ajuntament de Lleida (Lleida City Council), houses historic remains dating from the 5th century BC to the 18th century CE, including the Arxiu Municipal (Municipal Archive) and the Saló del Retaule (Hall of the Altarpiece).

The Plaça Sant Joan (Saint John's Square), which is an important meeting point for local people, is presided over by the Neo-Gothic style church of the same name and there is an interesting conjugation of traditional atmosphere and modern urbanism. The Seu Vella, which is the city's best vantage point and is surrounded by the longest perimeter wall in Europe, also houses the ancient Moorish fort, called La Suda. The Seu Vella cathedral is a magnificent Romanesque-Gothic architectural complex consisting of a temple, cloister and steeple.
Other places of interest to visit:

Former Hospital of Santa Maria
The New Cathedral
Chuch of Sant Llorenç
Chuch of Sant Martí
The monumental complex of Gardeny