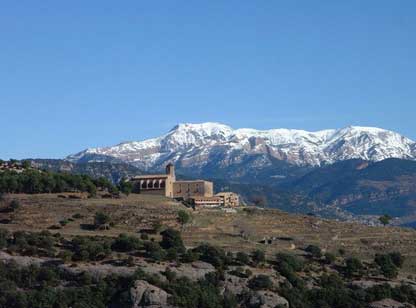 Route through the Coll de Jou and Port del Comte
Leaving Sant Llorenç de Morunys and heading along the road to Coll de Jou, visitors will find a small car park after, after about 5 km, from where it is possible to contemplate the terraced relief of Els Bastets (Pyrenees-El Solsonès - Spain). Continuing on to the Coll (pass) de Jou, and then following a footpath leading to a large pine forest, visitors will reach the leisure area of El Codó. If they then walk on for another 10 minutes or so, they will come to the vantage point of Creu del Codó, which offers breathtaking views.
It is then on to the Alpine ski station of Port del Comte, which also offers magnificent panoramic views and where, in summer, it is possible to enjoy walks to a number of destinations including El forat de la Bòfia, El Pedró dels Quatre Batlles and El Pla de Bacies. Continuing along the road to La Coma, visitors will come to a crossing from which it is possible to go to the Coll de Port, which marks the boundary between this comarca and L'Alt Urgell (Spain). Visitors can then turn back and go down to La Coma and Sant Llorenç de Morunys, at a leisurely pace, passing through the Coma valley and enjoying the countryside, with the Serra (ridge) de Busa in the background.