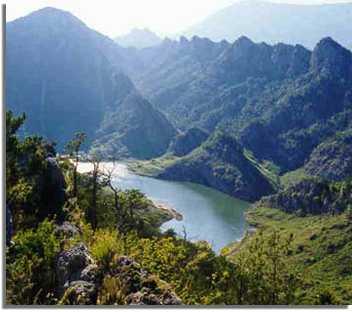 Route following the River Cardener
Visitors should set off from Sant Llorenç de Morunys in the direction of La Coma and then, after about 500 m, they can follow the course of the River Cardener up to its source. Along the way, they will pass the 12th – 13th century Pont (bridge) de Vall-llonga, away to their right. This beautiful example of Romanesque architecture, with its single semi-circular arch, was moved from its original site to make way for the construction of the Llosa del Cavall reservoir. Just a few metres up and to the right, there is the 11th – 12th century Romanesque church of Santa Creu d'Ollers. Going on towards La Pedra, in the direction indicated by the marker post, and then slightly moving off to the right, visitors will come to the Font Puda (stinking spring), whose name derives from the sulphurous nature of its waters. According to popular tradition, it is necessary to drink these waters for nine consecutive days in order to enjoy their curative properties. Carrying on along the track, visitors will come to the church of Sant Serni de la Pedra, which is one of the first mentioned in Catalan history, with references dating back to the year 839. Nearby, at an altitude of 100 m, it is also possible to see the remains of the former castle of La Pedra.
Continuing on, along the main road, visitors will come to the picturesque village of La Coma, whose houses stand around the parish church of Sant Quirze i Santa Julita. Visitors are recommended to enjoy a stroll through its quiet streets, which have recently been restored. Another 1 km along the road, they will find the Fonts del Cardener, which is where the river of the same name rises and offers a magnificent leisure area.