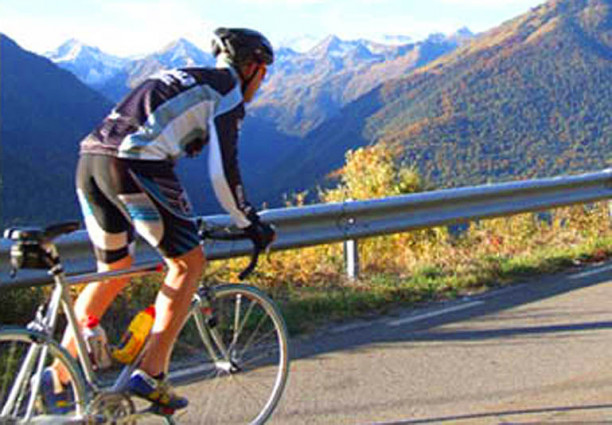 This has to be done at least once in a lifetime!
Can you imagine 191 kilometres with 4300 metres of acculumated elevation gain?  We offer a challenge for you to undertake on a road-bike, in which you will ascend some of the most important passes of this ancient region.
Leaving from Vielha, you will be able to complete it in one or two days, depending on your level of fitness.  Just think that a professional cyclist will take more than six hours to complete it as one leg of a round! Likewise, we offer you the possibility of completing it in the direction you wish.  We will post your results on our website as evidence of your effort.
If you complete it in an anti-clockwise direction:
Menté (9.5 kms at 8.88%)
Buret (2.7 kms at 3.66%)
Ares (6.6 kms at 4.72%)
Balès (11.3% at 8.36%)
Portilhon (7 kms at 8.54%)
and Mirador d´Arres (7.2 kms at 8.50%).
If you complete it in a clockwise direction:
Vilamòs (5.6 kms at 6.9%)
Portilhon (8.2 kms at 7.10 %)
Balès (19.5% at 5.66%)
Ares (6.5% at 4.72%)
Buret (3.4 kms at 3.35%)
and Menté (11 kms at 6.44%).
We will give you a roadbook, which you will have to get stamped as you pass the controls along the course.  At your departure we will set your odometer to zero, and on your arrival, the number of kilometres you have completed must coincide with the distance in kilometres of the course.  This will be the only way of attaining the coveted and exclusive shirt of the Occitan challenge.  Your authentic challenge!
The reward does not end here.  If you wish, we have prepared a tribute for you in a restaurant in Vielha, with a special menu, where you can celebrate your feat.