Breakfast amongst the olive trees with an olive oil tasting, La Pobla de Cérvoles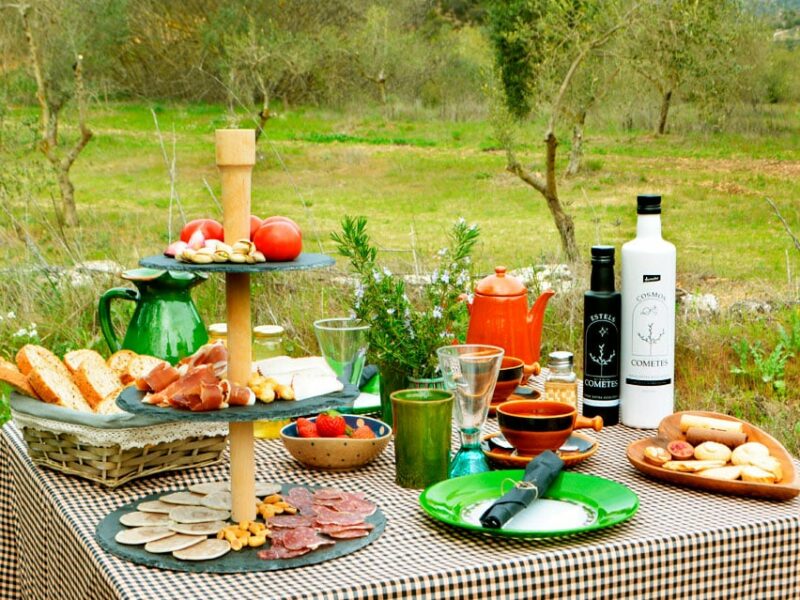 Come and enjoy a unique and exclusive breakfast at an olive grove, with views over the surrounding valley. The meal includes typical rural bread, spread with tomato and garlic; extra virgin olive oil from our mill; cold cuts (sausage, white pudding, salted ham, and cheese); nuts; fruit; assorted biscuits; and coffee or tea, fruit juice, beer and/or water. You will then be offered a tasting of the 9 olive oils produced on the estate (3 extra virgin olive oils and 6 seasoned olive oils). There is also an optional free visit to the olive groves on the estate, following a signposted route along which you will be able to enjoy magnificent views and to discover various caves, a water collector, cliffs, vantagepoints, and drystone walls, and where you will hear the wide variety of birds that live on the estate.
Les Garrigues
What it includes:
- Breakfast amongst the olive trees accompanied by local products
- A tasting of 9 olive oils (3 extra virgin oils and 6 seasoned oils) and of Arbequina olives
- A free signposted walk around the estate (optional)
Timetable:
From Monday to Sunday, at 9.30 am
Duration: 1 hour 30 minutes
By prior arrangement
Price:
Groups of up to 4 people:
€16 per person
€10 per person for children under 10 years old.
Groups of 5 or more people:
€14 per person
€10 per person for children under 10 years old
Languages:
Catalan, Spanish, English and German
Oli Cometes
613 100 581
olicometes@gmail.com
EXPERIENCES
IN THE SAME REGION